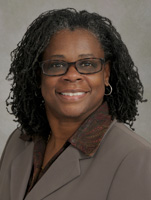 ​
We are happy to announce Robbye Kinkade, MPH, CHES, DrPh(c), as the recently appointed Director of Diversity, Equity and Inclusion for the School of Health Professions. Ms. Kinkade will lead the efforts in developing a diversity, equity and inclusion plan for the School in such areas as admissions, recruitment, curriculum, training, resources, research, and mentoring. ​
Ms. Kinkade has worked closely with the University's President's Council and has served as an advisor to the Chief Diversity Officers (CDOs) in the strategic planning for the Diversity, Equity, and Inclusion (DEI) initiative for SBU. In the initial phases of the DEI initiative, Ms. Kinkade was appointed Director of the "Responding to Equity, Diversity and Inclusion" (R.E.D.I.) Project, responsible for the overall development, management, and coordination of a 2-year DEI pilot project. Central to the initiative was the development and facilitation of implicit bias and cultural consciousness training for all administrators, faculty, and staff.
Ms. Kinkade has also worked in collaboration with key members of the campus community including the Office of Multicultural Affairs, the Center for Inclusive Education, the Student Accessibility Support Center, the LGBTQ center, various student affinity groups, and other campus stakeholders to assist with programmatic diversity plans. She has developed department-specific DEI programs and training curriculum, and assisted in the strategic planning of several programs' diversity initiatives. Currently she is the DEI advisor for the WISE program, the Center for Inclusive Education (NIH grant), SBU Advancement, and will be featured in the Beyond the Expected Podcasts for DEI-related initiatives. Ms. Kinkade has also developed and implemented cultural awareness and implicit bias presentations and workshops for various off-campus populations including k-12 school districts, higher education institutions, adolescents, and community-based organizations.
As a Public Health Educator, she has worked with health and human service professionals on the state level through the New York State Department of Health (NYSDOH) and the national level through the Health Resources and Service Administration (HRSA), as well as the Center for Disease Control (CDC). Some of the trainings included Cultural Consciousness for the Healthcare Professional, Stages of Change, Health Belief Model, HIV/AIDS, STDs, and Intimate Partner Violence. She has presented both nationally and internationally and is currently a doctoral candidate at SUNY Downstate Medical College, in the School of Public Health. Her research addresses the importance of creating participant-perceived "brave and psychologically safe workspaces". Creating such environments may enhance healthcare providers' training experience, thus impacting intercultural knowledge, attitudes, self -awareness and skills.
Ms. Kinkade currently serves as Clinical Assistant Professor at Stony Brook's School of Health Professions and as voluntary faculty in the School of Medicine. In her role as faculty, she teaches courses in Cultural Consciousness, Community Health Education, Social & Behavioral Aspects of Health, and Healthcare Communications & Group Dynamics. DEI affiliations include NADOHE, Erase Racism and The Center for Social justice and Human Understanding, NAACP, NYSPHA, APHA, and NCHEC.
---