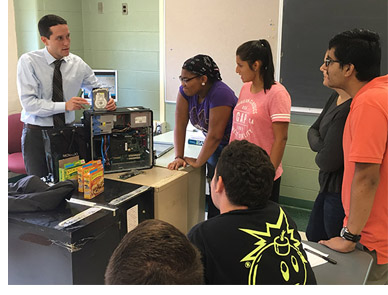 Overview
The School of Health Professions received a Project Award from the Bureau of Health Professions, Health Resources and Services Administration (HRSA) in 2009 under the Health Careers Opportunity Program (HCOP). This program's goals were to create a more diverse and competitive applicant pool of under-represented individuals in grades 7 through 12, as well as adults, to pursue careers in the allied health professions. HCOP accomplished this by offering exciting and interesting programs for social, academic and career oriented students in grades 7 through 12, parents and community members. These efforts are now being sustained through the Health Careers Academic Readiness and Excellence (HCARE) program's Summer Institute.
HCARE Summer Institute
The School of Health Professions provides an online summer enrichment program for high school students interested in the allied health professions. This online program provides interested high school student-participants with an awareness of allied health professions through faculty presentations; college readiness skills; and more - including resume building, mock interviewing, and success for life skills.
Program Director
Since 2010, Erik Flynn has collaborated with numerous faculty to implement pipeline initiatives at Stony Brook University - including HCOP and HCARE. In collaboration with numerous Stony Brook University departments and programs (School of Health Professions, Renaissance School of Medicine, School of Dental Medicine, School of Social Welfare, School of Nursing, Women in Science and Engineering Honors Program, and Long Island State Veterans Home), these projects have served thousands of students, in grades 7 through 12, namely from the Suffolk County school districts of Amityville USFD, Brentwood UFSD, Riverhead CSD, William Floyd UFSD, and Wyandanch UFSD. Furthermore, he has served as the PI on a subcontract with Brentwood Union Free School District to implement a New York State Education Department grant, titled My Brother's Keeper (MBK). And as a Clinical Lecturer, Erik Flynn has also taught Scholarly Writing in Health Science; Utilization and Outcomes Research Methods; Communication Skills, and Introduction to the Health Professions.