Poster Presented by Doctoral Candidate, Faiza Qureshi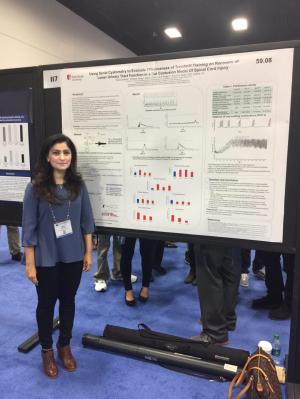 Author: Faiza Qureshi, Preston Kung, Hyun Jin Cho, Natalie Phagu, Sue Ann Sisto and William F Collins III.
Presented her poster "Using serial cystometry to evaluate effectiveness of treadmill training on recovery of lower urinary tract function in a rat contusion model of SCI" at "Society for Neuroscience" in November, 2016 at SanDiego.
---
Publication
Author: Mayank Seth, Eric Lamberg
Standing balance in people with trans-tibial amputation due to vascular causes:
Accepted for publication in the journal Prosthetics and Orthotics International
http://journals.sagepub.com/toc/poi/0/0
---
Publication
Author: Mitra Varedi
Co-Authors: Varedi, Mitra; McKenna, Raymond; Lamberg, Eric
Balance in Children with Acute Lymphoblastic Leukemia; A Review
Published online in Pediatrics International
---
"Rehab Plus" Symposium
Dr. Prithvi Shah is an invited speaker in the symposium entitled "Rehab Plus" at the upcoming Neurotrauma Meeting (June 26-29 in Lexington) at the University of Lousiville.
---
Invited Lecture
Dr. Suman Jain, Professor at AIMS Delhi, invites Dr. Prithvi Shah as a Guest Speaker in a Symposium at the Annual Meeting of Indian Academy of Neuroscience 2016 at the National Brain Research Center in Gurgaon, India. The Conference will be held on 19th – 21st October 2016 and cover discussions by National & International experts spanning across the fields of Neurology and Neuroscience.
---
Published Article by Faiza Qureshi and Sue Ann Sisto as co-authors
Faiza Qureshi, Ph.D. Candidate and Sue Ann Sisto, Director of Rehabilitation Research and Movement Performance (RRAMP) Laboratory, as co-authors, published a new article, "Reliability of the International Spinal Cord Injury Musculoskeletal Basic Data Set" in 2016.
Abstract
Study design: Psychometric study.
Objectives: To determine the intra- and inter-rater reliability and content validity of the International Spinal Cord Injury (SCI) Musculoskeletal Basic Data Set (ISCIMSBDS). Setting: Four centers with one in each of the countries in Australia, England, India and the United States of America.
Methods: A total of 117 participants with a C2 to S1 neurological level and American Spinal Injury Association Impairment Scale A to D injury were recruited. The median (interquartile range) time since injury was 9 years (2–29). Fifty-seven participants were assessed by the same assessor, and 60 participants were assessed by two different assessors on two different occasions to determine the intra- and inter-rater reliability, respectively. Kappa statistics or crude agreement was used to measure reliability. Content validity was assessed through focus group interviews of people with SCI and health-care professionals.
Result: The intra-rater reliability ranged from κ=0.62 to 1.00 and crude agreement from 75% to 100% for each of the variables on the ISCIMSBDS. The inter-rater reliability ranged from κ=− 0.25 to 1.00, with a diverse crude agreement ranging from 0% to 100%. The inter-rater reliability was unsatisfactory for the following variables: 'Date of fracture', 'Fragility fractures', 'Scoliosis, method of assessment', 'Other musculoskeletal problems' and 'Do any of the above musculoskeletal challenges interfere with your activities of daily living (transfers, walking, dressing, showers, etc.)?'. Results from validity discussions implied no major suggestions for changes.
Conclusion: Overall, the ISCIMSBDS is reliable and valid, although 5 of the 12 variables may benefit from further refinement. Spinal Cord advance online publication, 3 May 2016; doi:10.1038/sc.2016.42
---
Proposal Accepted
Dr. Sharon Ray's conference session proposal to the 21st Annual Conference on Advancing School Mental Health has been accepted. The title is: Empowering students to support their self-regulation through the incorporation of classroom sensory strategies.
---
sfAA Conference
PhD students Cassandra Evans, Sylette Henry Buckmire, Maria Milazzo along with Dr. Pamela Block attended the sfAA Conference in Vancouver.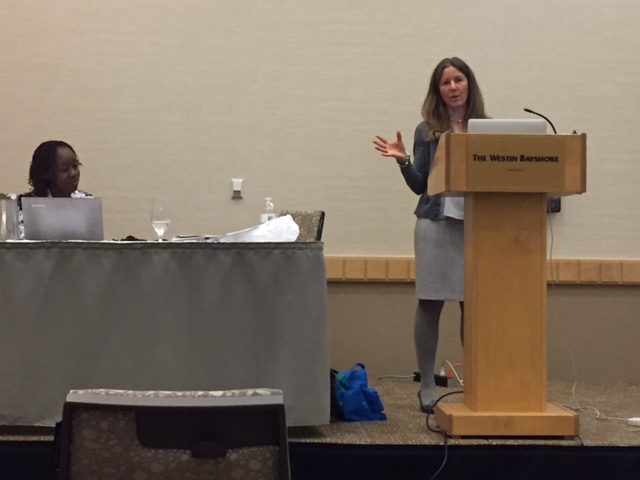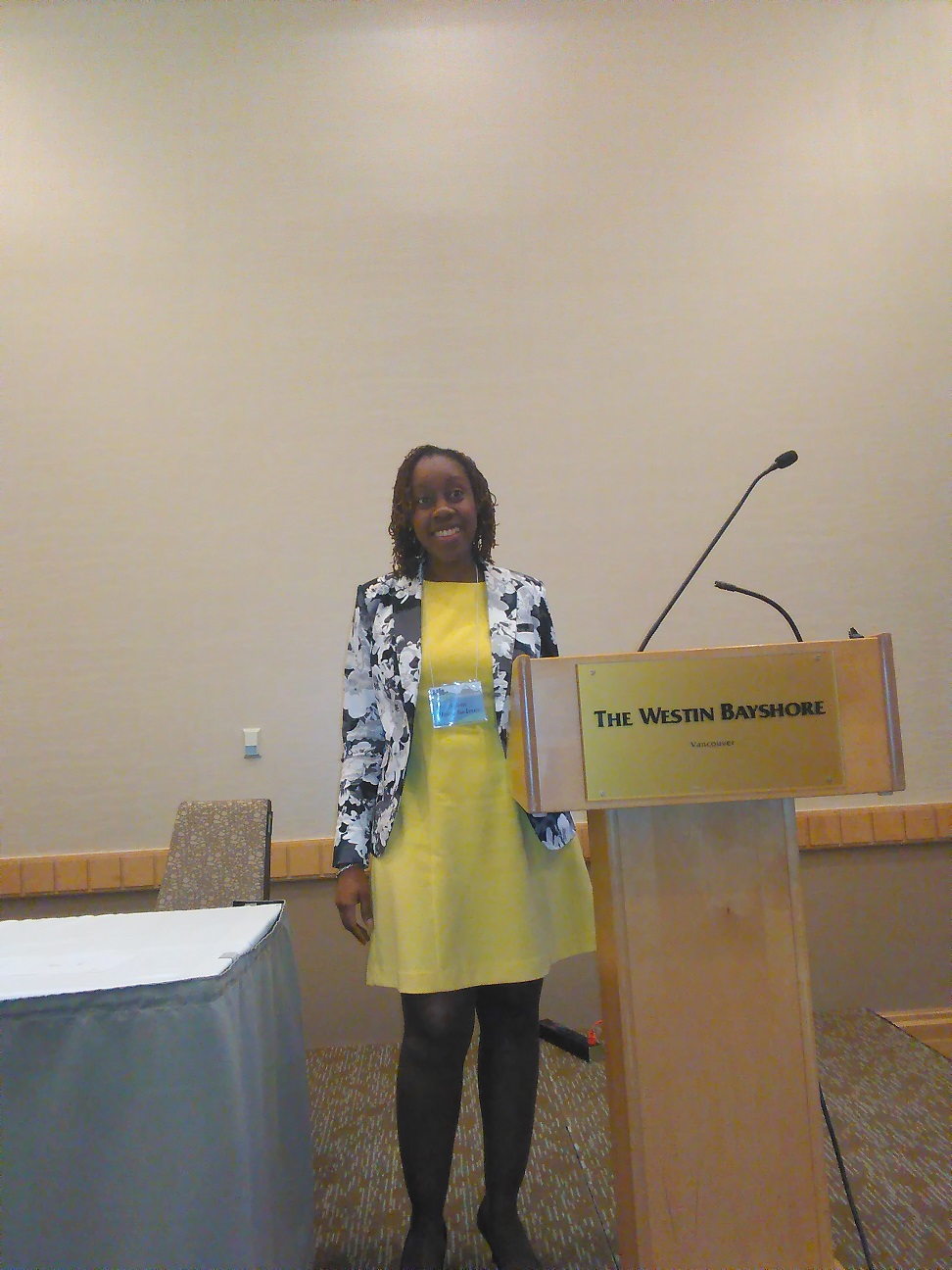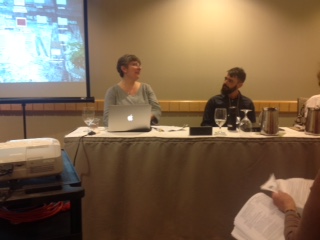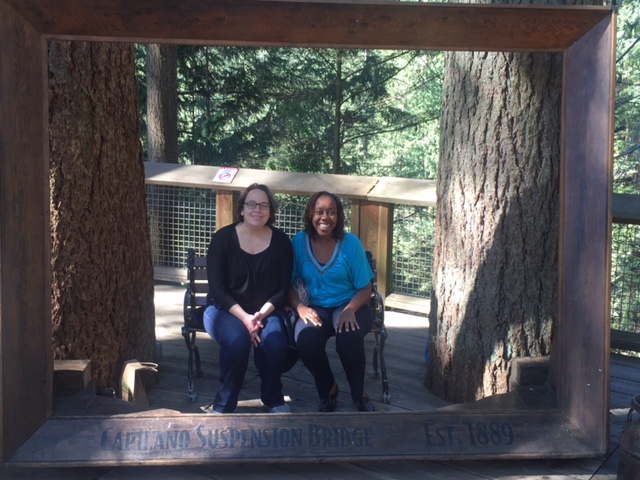 ---
Stony Brook Earthstock Event, Friday, April 22, 2016

The HRS PhD program hosted a table at Earthstock to distribute information including facts about the ADA; contact info for Disability Support Services,; information on DSS's "Buddy" volunteer program. Two PhD student volunteers from the SHTM spoke to students about the "Health and Rehabiliation Sciences/Disability Student Track" program as well as distributing awareness buttons and collecting names of people interested in assisting with the President's ADA Committee efforts (otherwise known as volunteers!).
Here are some photos of doctoral student Cassandra Evans helping with the Disability Awareness table at Stony Brook Earthstock on Friday.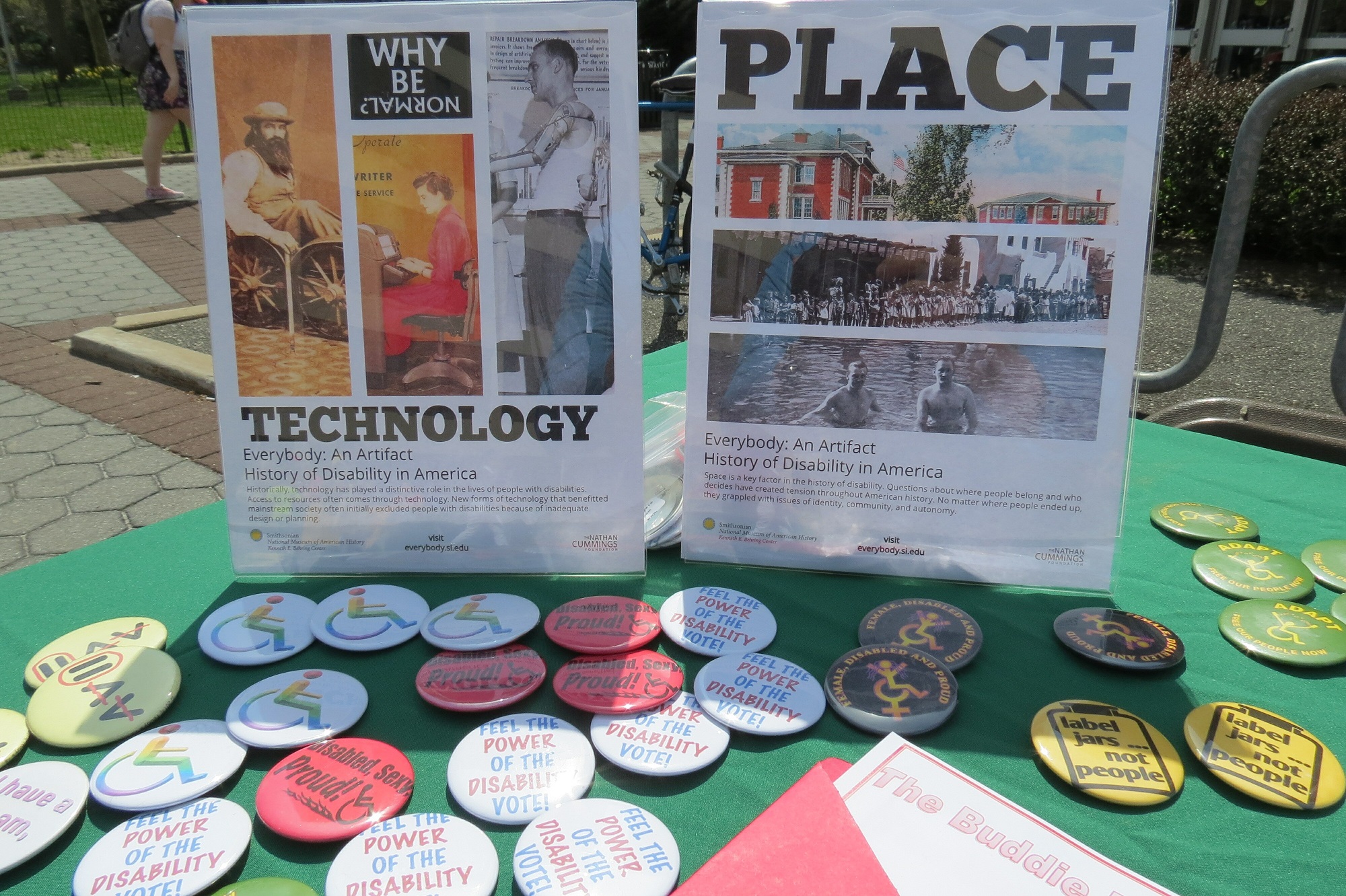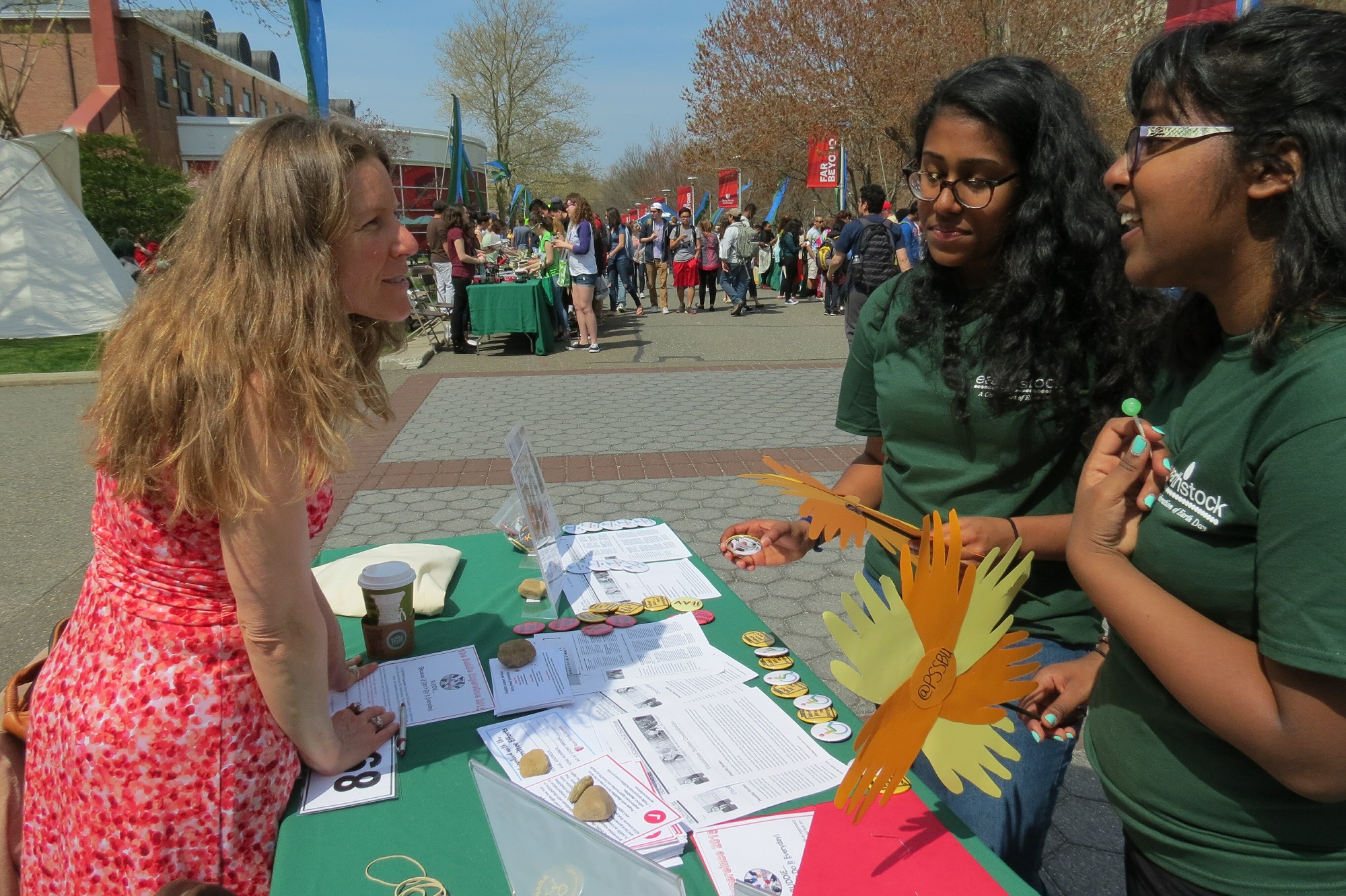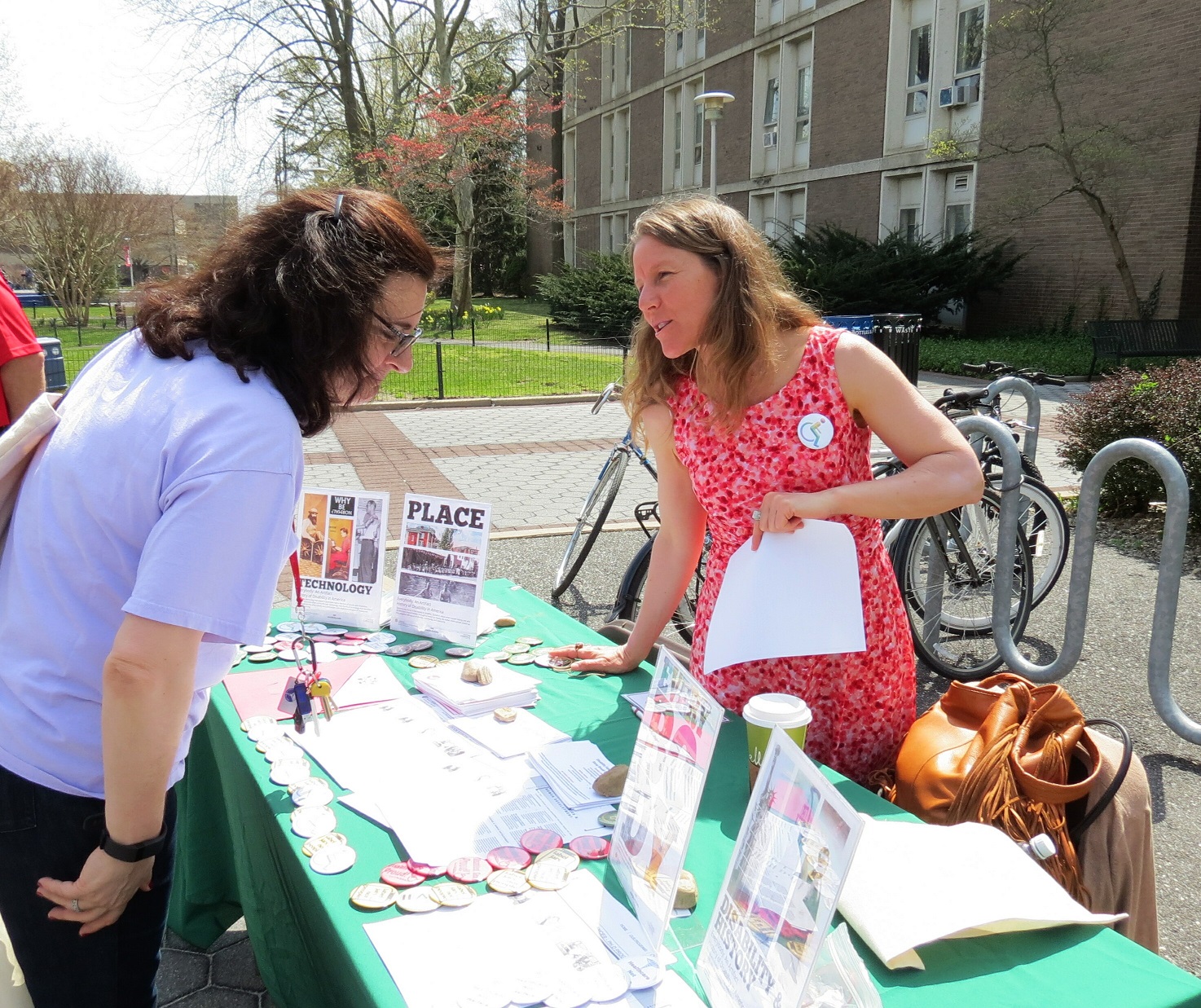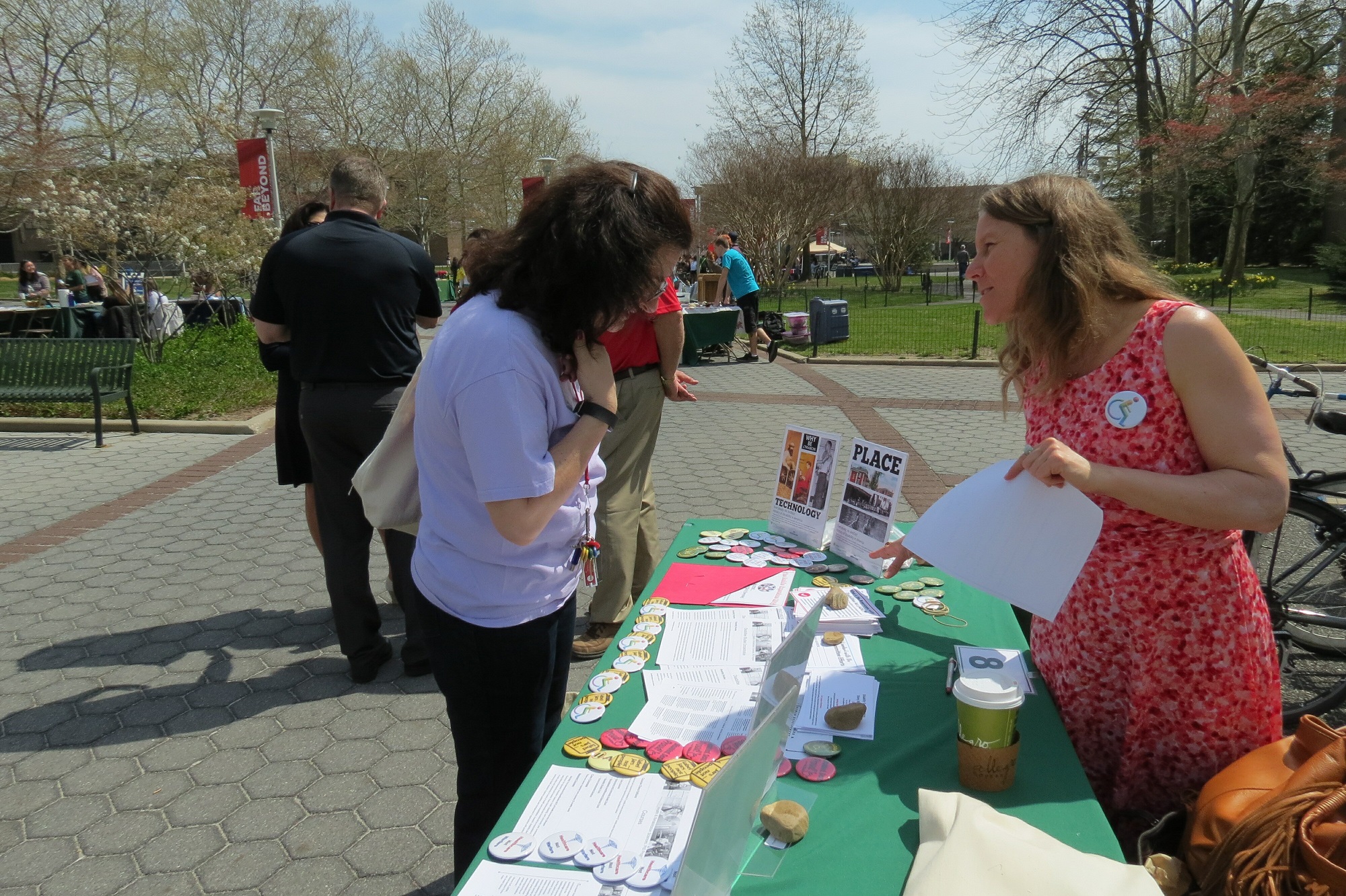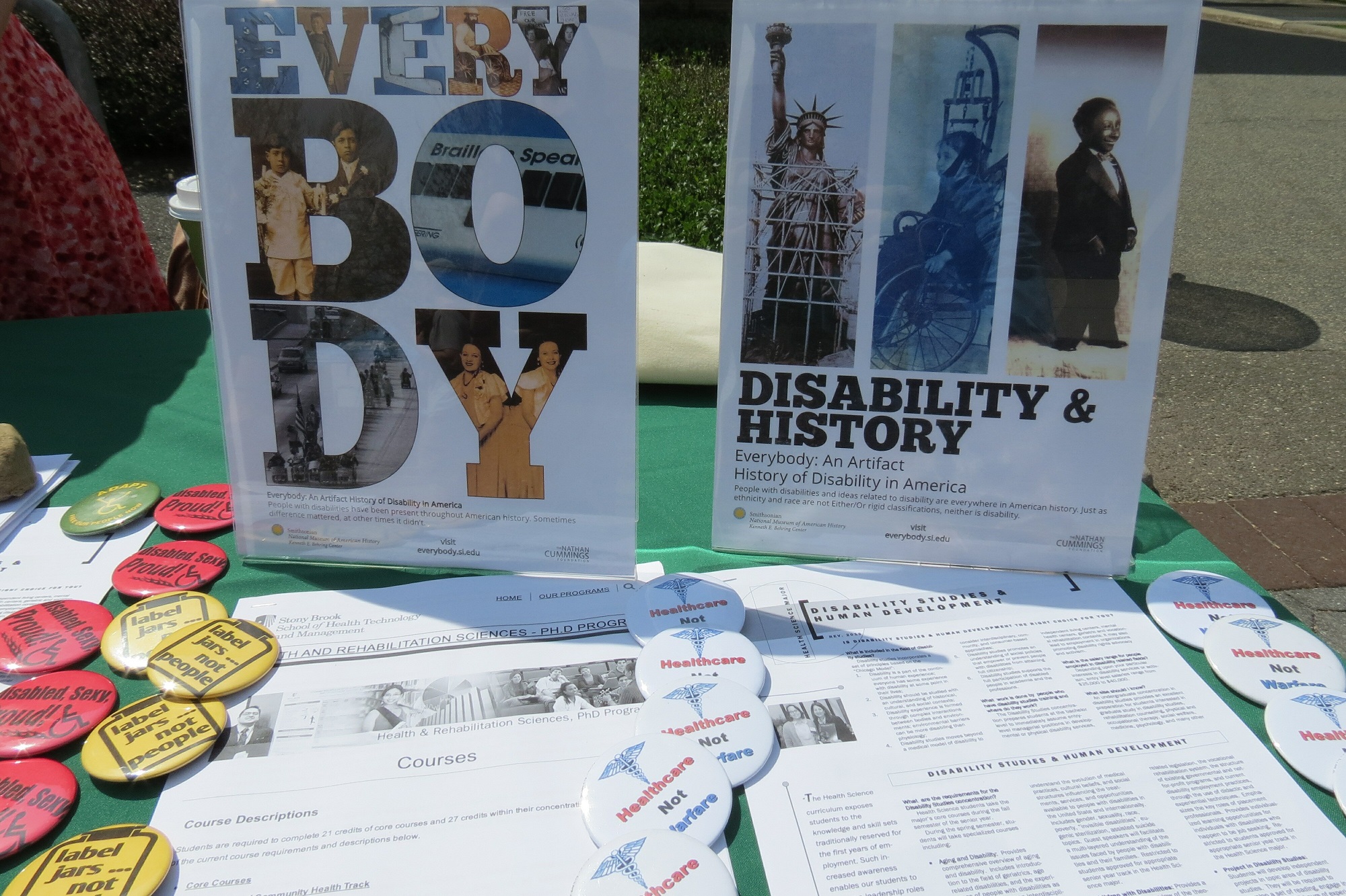 ---
Conference Presentation
Dr. Sharon Ray presented a short course titled Transitioning Non-oral to Oral Feeding in Young Children at the American Occupational Therapy Association Annual Conference in Chicago on April 2016.
---
Book Release and Launch Party
Dr. Michelle Friedner has recently released a new book titled Valuing Deaf Worlds, available from Rutgers University Press. For more details see here
---
Post on The Neuroethics Blog
Ph.D. student Cassandra Evans would like to share her newblog posting from the past summer titled:
Bring back the asylum: A critical analysis of the call for a "return to 'modern' institutionalization methods
---
Article Accepted for Publication

Ph.D. program director, Dr. Sue Sisto's article has been accepted for publication in the Journal of Neurophysiology: Spinal electro-magnetic stimulation combined with transgene delivery of neurotrophin NT-3 and exercise: novel combination therapy for spinal contusion injury. Authors include: Hayk Petrosyan, Valentina Alessi, Arsen Hunanyan, Sue Ann Sisto, and Victor Arvanian
---
Student Poster Presentation at Society for Neuroscience

Ph.D. student, Faiza Qureshi, will be presenting a poster at Society for Neuroscience, Oct 17-21, 2015 in Chicago. The title of her abstract and poster is: Serial Cystometry Measurements- a novel method for evaluation of lower urinary tract function in adult female sprague-dawley rats.
---
Student Receives Lois and Robert Stafford Graduate Award

On June 22nd, PhD student Cynthia Spragg was presented with the Lois and Robert Stafford Graduate Award for academic sucess and community leadership. Cynthia is the first veteran to recieve the award.
---
Student at Panel Presentation for Society for Disability Studies
Ph.D. student, Cassandra Evans recently presented at SDS for the panel: "Mad Studies: Intersections with Disability Studies, Social Work and 'Mental Health." Her section was titled: "Bring Back the Asylum: Critical Analysis of the Call for a 'Return to "
Modern"
Institutionalization Methods."
---
Rehab Research and Movement Performance Lab (RRAMP Lab)

We are located off campus; we are located off Stony Brook Road in the Research and Development Park, Building 17, Suite 120 Stony Brook, NY 11794 631-444-6057
Click Here for Directions and a Map to RRAMP Lab
---
On February 19, second-year student, Mayank Seth, presented his poster at the 41st annual meeting of the American Association of Orthotists and Prosthetists.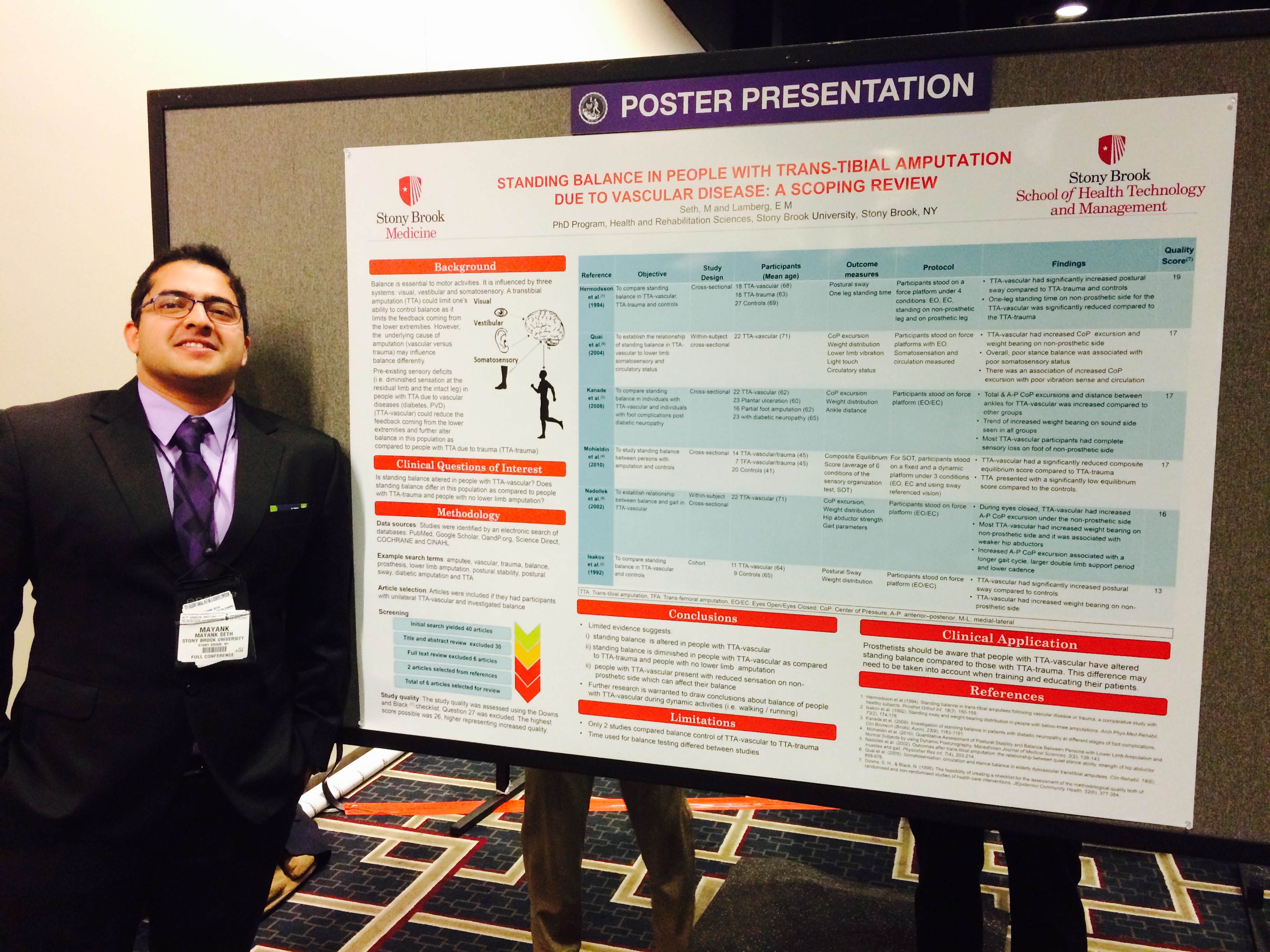 His poster was titled: Standing balance in people with trans-tibial amputation due to vascular disease: A scoping review.
---
November 2014..... HRS faculty member Michele Friedner's book available
Michele Friedner's book Valuing Deaf Worlds in Urban India is available as an eBook from Rutgers University Press. The paper version, which will be in print in June of 2015, is also currently available for preorder. Click here to learn more or go to Rutgers University Press to order.
---
July 2014.....New faculty
Prithvi Shah received a B.S Degree in Physical Therapy from India. She obtained her Ph.D. in Muscle Physiology and Rehabilitation Science from the University of Florida. Dr. Shah obtained her post-doctoral training at the University of California in Los Angeles. In 2014, she joined the faculty of the State University of New York at Stony Brook as Assistant Professor in the School of Health Technology and Management. She is also an affiliate faculty in the Department of Neurobiology and Behavior at Stony Brook University. Dr. Shah is a recipient of the Craig Neilsen Post-Doctoral Fellowship Award and is an active Consortium Associate of the Christopher and Dana Reeve Foundation.
Click here for Dr. Shah's profile.
---
NEW SBU HIGH-TECH REHABILITATION RESEARCH LABORATORY TO HELP INDIVIDUALS WITH SPINAL CORD INJURIES, MAJOR DISEASES
7,000 Square Foot RRAMP Laboratory Slated for Completion Later in 2009
STONY BROOK, N.Y., March 31, 2009 - Administrators and faculty from the Stony Brook University School of Health
Richard Johnson, PT, Clinical Associate Professor and Chair, Division of Rehabilitation Sciences, SBU School of Health Technology and Management (SHTM); Sue Ann Sisto, PT, MA, PhD, Research Director, Division of Rehabilitation Sciences; Shirley Strum Kenny, President, Stony Brook University; Craig Lehmann, Ph.D., Dean, SHTM, Interim Executive Dean, SBU Health Sciences Center; Barbara Chernow, Vice President, SBU Facilities & Services; Michael Murray, Assistant Director of Design, FD&C; Andrew Narus, Vice President, Hirani Engineering and Land Surveying, Inc.; Yumi Yoshino-Hempel, Project Architectural Designer, and Martin Ryan, Project Manager.
Technology and Management (SHTM) gathered in the center of what will be a high-technology laboratory dedicated to rehabilitation research at a March 11 groundbreaking ceremony. The 7,000 square foot facility, called the Rehabilitation Research and Movement Performance (RRAMP) Laboratory, will be the first facility of its kind on Long Island. RRAMP will pool the expertise of SBU rehabilitation, medical and engineering researchers to find innovative ways to improve the health and mobility of individuals experiencing physical and cognitive disabilities.
To be run by the SHTM, the laboratory will be located in SBU's Research and Development Park and is expected to be completed before the 2009-10 academic year. Researchers from disciplines within the Health Sciences, as well as from the Schools of Medicine and Engineering, will collaborate at RRAMP to analyze patients' difficulties with walking and other mobility problems, with the expectation of designing diagnostic and treatment solutions to their problems through technological means.
"This highly sophisticated laboratory will be a first for Stony Brook Health Sciences," said Craig Lehmann, Ph.D., Dean, SHTM, and Interim Executive Dean, Health Sciences Center. "The lab will be an important aspect to growing the research component of many Health Sciences Center programs."
"Over the next five years, we expect to develop RRAMP into a flourishing regional research center that will help thousands in the area stricken with neurological diseases, orthopedic disorders or debilitating injuries," said Sue Ann Sisto, P.T., M.A., Ph.D., Professor and Research Director, Division of Rehabilitation Sciences, SHTM. "The technological capacity of the lab in concert with the broad medical expertise available through the medical center will enhance the rehabilitation of patients with serious injuries and diseases."
"We are excited about this high-tech laboratory, which will enable important discoveries that will affect the lives of many patients over time," added Shirley Strum Kenny, President, Stony Brook University.
Dr. Sisto said that research teams at RRAMP will be made up of faculty across numerous SBU Schools, as well as experts from Brookhaven National Laboratory. There will be research teams for spinal cord injury, traumatic brain injury, stroke, Huntington's disease, Multiple Sclerosis, Parkinson's disease, and for amputations, orthopedic disorders, sports injuries, pediatric diseases such as cerebral palsy and pediatric cancers, as well as geriatric disorders, cardiovascular disease and obesity-related conditions.
Built into the floor within the center of the lab (groundbreaking photo location) will be force plates designed to capture ground reaction forces during gait/walking. Other built-in technologies will measure kinetics of wheelchair propulsion and orchestrate 3D computer imaging to measure position and movement. Electrodes will measure muscle activation patterns and will be synchronized with the imaging and kinetic data to give a detailed picture of movement patterns. Other computer-based systems will also help researchers measure metabolic rates, brain activation patterns, body comparison and other physiological and performance measurements of individuals.
The Division of Rehabilitation Sciences at the Stony Brook University School of Health Technology and Management (SHTM) includes the Departments of Physical Therapy, Occupational Therapy, Athletic Training and Adapted Aquatics. The Division educates students based on research evidence on topics that impact clinical practices in the Rehabilitation Sciences. Division faculty engage in advanced research, much of which will involve the new Rehabilitation Research and Movement Performance (RRAMP) Laboratory.