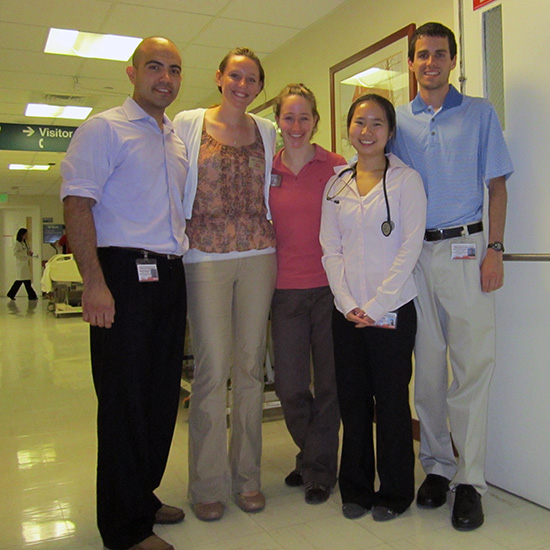 The clinical education program is designed to provide students with the opportunity to implement and apply knowledge and skills gained in the classroom to the clinical environment.
The clinical education program exists to provide students with appropriate clinical experiences in which they will:
observe and demonstrate professional behavior
apply the body of knowledge, skills, and attitudes required for evidence-based practice of physical therapy
interact with the health care community
synthesize academic knowledge and skills with the clinical practice of PT
develop administrative, supervisory, teaching, and research skills required for the practice of PT
Clinical education experiences are conducted under the guidance of a licensed physical therapist appointed by the clinical site. The student's learning experience is designed to provide practical experience in preparation for entry-level professional practice. Each student is required to gain clinical experience in a variety of settings to provide a well-rounded education in preparation for graduation as a generalist clinician. Students are mandated to complete at least one clinical experience in an inpatient setting (either acute care or adult rehabilitation) as well as at least one clinical experience in an outpatient setting (with a focus on orthopedics) to meet program requirements.
Schedule of Clinical Experiences
The PT program has approximately 400 contracts with clinical sites nationwide. The majority of sites are within the metropolitan tri-state area. Beginning with the Class of 2021, the clinical education program consists of a total of 35 weeks of full-time clinical education experiences:
Clinical Education I is an 8-week, full-time experience scheduled at the end of the fall semester in the second year of the program.
Clinical Education II is a 9-week, full-time experience, scheduled during the summer after completion of the second year of the program.
Clinical Education III and IV are full-time experiences that take place during the spring semester of the third year. Clinical Education III is 8-weeks in duration, and Clinical Education IV is 10-weeks in duration.