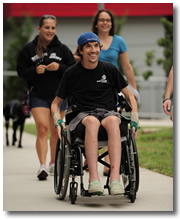 EmpowerSCI is a 2-week residential program that has been hosted at Stony Brook University for the past several years. It caters to individuals who sustained an injury to their cervical spinal cord. The program focuses not only on formal rehabilitation through PT, OT, and recreational therapy; but, more importantly, rehabilitation counseling, peer mentoring, and knowledge-sharing between individuals who are going through similar challenges and experiences. Each program addresses the unique needs of the client through both individual and group therapy sessions, with client-developed goals to maximize the client's ability to lead a happier, more meaningful and more independent life. EmpowerSCI, Incorporated, focuses to allow individuals with spinal cord injuries the opportunity to participate in successful rehabilitation during a time in their lives where they are motivated, healed (both mentally and orthopedically) and have the potential to succeed. Stony Brook faculty members, alumni and PT student volunteers assist to enable participants to try different adaptive sports such as handcycling, kayaking, swimming, yoga, adaptive aquatics, and dancing. The EmpowerSCI staff is composed primarily of volunteers, most of them Stony Brook students and alumni from our physical therapy, occupational therapy, and health sciences programs.
---
Fit Kids for Life
is a multi-disciplinary, comprehensive
program delivered over a 10 week period that provides a supervised curriculum emphasizing safe and healthy nutritional, exercise and behavioral modification for children ages 8-17 years old and their families. Jointly offered by Stony Brook University Children's Hospital and the School of Health Professions, the program is administered by a board certified pediatric cardiologist and a doctorally trained physical therapist. The children meet twice weekly for two hours each day and, with the assistance from volunteer student personal trainers, they are taken through a fun and vigorous curriculum that ultimately fosters a healthy lifestyle. Parents and families are encouraged to participate and, at the completion of the 10 week program, children and their families are empowered with the knowledge, skills and confidence needed to live healthier lives.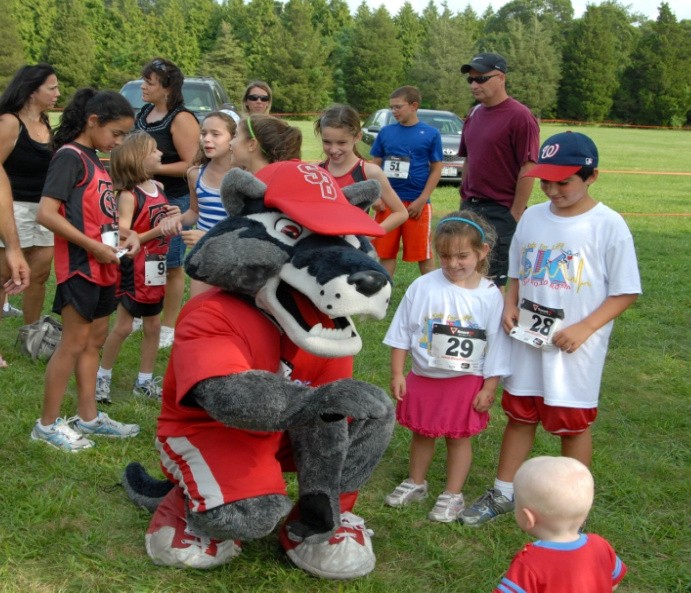 ---
D.R.E.A.M.
(
Dancers Realize Excellence through Arts and Movement
) is the result of a collaboration that began 16 years ago between Stony Brook PT faculty member, Agnes McConlogue Ferro, and the National Dance Institute (NDI). The inclusion-based format allows age-matched typically-developing peers to become dance partners with children of astounding abilities and motivation. It truly is all about participation. This program offers students the ability to volunteer alongside Agnes and faculty from NDI to provide assistance to enhance participation for children with a wide variety of diagnoses…and abilities. Students who volunteer are encouraged to be active participants in this unique experience as the program provides opportunities for 'hands-on' activities and problem-solving throughout the day. D.R.E.A.M. also provides an opportunity to experience research in progress, as data collection on physical therapy goal achievement within an inclusive, participation-based format in ongoing.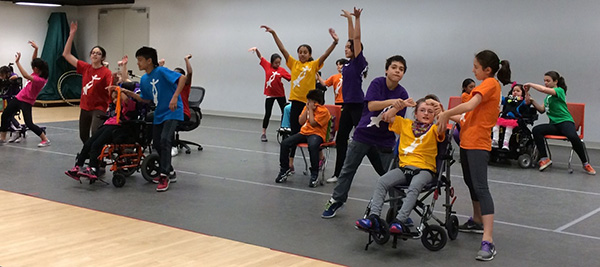 ---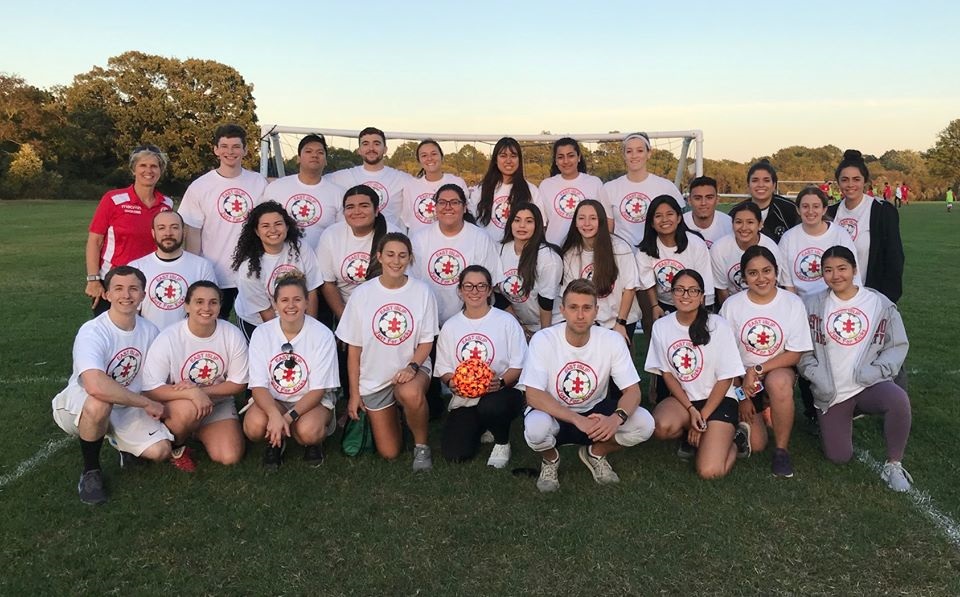 Just for Kicks is a program offered through the East Islip Soccer Club, developed to promote an interest in soccer for children between the ages of 5 and 14 on the Autism spectrum. The program provides these children with an opportunity to learn basic soccer skills while having fun and building self-esteem in a supervised, controlled setting. During the hour-long weekly program, participants work on soccer skills through drills and activities and, then, participate in games based on individual abilities.
Volunteer coaches undergo training that improves sensitivity and awareness of the disability to equip instructors with the tools necessary to successfully guide and interact with participants. Volunteer coaches provide instruction, motivation and redirection to the children to create a positive environment, and many are recruited from the DPT, OT and BS in Health Sciences programs at Stony Brook University by Christina Burke, a DPT faculty member.
---
Health Fairs and Balance Screens
DPT students have the opportunity to apply knowledge and skills learned in the classroom by volunteering at community health fairs in the region. Students are supervised by faculty while providing evidence-based balance and fall screens to senior citizens residing in the community. These opportunities help students develop clinical skills and confidence in working with the older adult population.