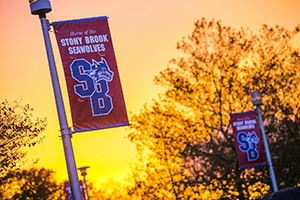 The faculty in Stony Brook's Doctorate in Physical Therapy (DPT) Program welcomes you to consider the following important facts when choosing an academic program:
We offer a non-competitive, supportive environment for learning.
We are proud to report that 100% of our licensed graduates (2020, 2021) from both campuses who seek employment are employed within 12 months of graduation. Many Stony Brook students are offered employment from contacts made during their clinical internships.

The most recent 2-year average (2021-2022) ultimate pass rate on the National Physical Therapy Exam for licensure is 99% at the Stony Brook campus and 95.2% at the Southampton campus.

Our program has a 50 year history of educating outstanding clinicians.
Local practicing clinicians participate as adjunct faculty in our lab courses.
We offer opportunities to collaborate with faculty in research and service activities.
We provide individualized faculty advisement.
Our program has access to the largest tertiary care hospital in Suffolk County (University Hospital) and the Long Island State Veterans Home on campus. Clinical staff from both facilities and residents from the Veterans Home participate in class-related learning activities. The close relationship with these facilities as well as Southampton Hospital, Riverhead Care Center and other local physical therapy practices provides an environment for sharing clinical expertise amongst clinicians, educators and students.
Stony Brook University is a member of the elite Association of American Universities, is ranked the #1 public university in New York, #26 among public universities nationwide and #58 among national universities by U.S. News & World Report for 2024. Here are a few reasons why Stony Brook should be the 1st choice for your future. We offer:
A top tier education at a fraction of the cost of a private university
Prime locations, on Long Island's North Shore – midway between Montauk and New York City, and on the beautiful South Fork of Long Island.
One of the nation's top university-based teaching hospitals
Hundreds of clubs and organizations on campus, and the beach, parks, and shopping areas only a short ride away—you won't have to go far to find fun!
Stony Brook University/SUNY is an affirmative action, equal opportunity educator and employer.