CLINICAL LABORATORY SCIENCES @ COMMUNIVERSITY DAY 2017!!!
This year, CLS Faculty Members Jeannie Guglielmo, and Kathleen Finnegan participated in the CommUniversity Day event at the Academic Mall; sharing their fasicnating, innovative, and entertaining world with the larger campus community! Through interactive activities, participants were privileged to a hands on experience that was relevant to the Clinical Laboratory Sciences ethos in a fun and exciting way! Below are a few photos from the day:
---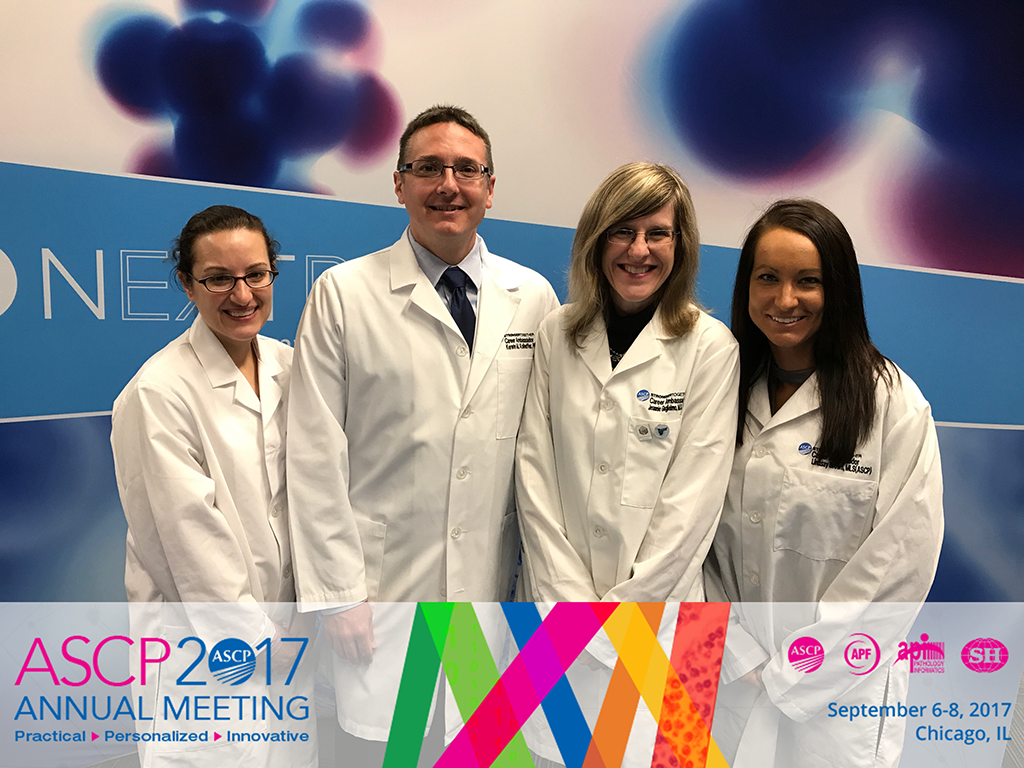 WE'D LIKE TO CONGRATULATE JEANNIE GUGLIELMO ON HER FOURTH YEAR OF PARTICIPATION WITH THE NEXTPO CONFERENCE!!!
Here is the event explained by Jeannie Guglielmo:
NEXTPO is a program sponsored by the ASCP (American Society for Clinical Pathology) to help address the workforce shortage of Clinical Laboratory Scientists. This program aims to expose pre-college students to careers in the laboratory. For the past several years, Jeannie Guglielmo along with 3 other ASCP Career Ambassadors (depicted above) have provided hands-on workshops to hundreds of students at the Annual ASCP Meetings in Tampa, FL, Long Beach, CA, Las Vegas, NV and Chicago, IL. Students are rotated through stations in Microbiology, Blood Bank, Forensic Science and Pathology Assisting, completing hands-on activities along with other fun activities such as a PPE race and a Diagnosis Challenge.
---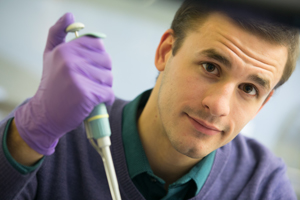 Jakub Micko
Biology, Clinical Laboratory Science Major; Minor in Writing;
University Scholars Program, Class of 2017
Research Mentors:
Dr. Joshua Rest -
Ecology & Evolution;
Dr. Gloria Viboud

-

Clinical Laboratory Sciences, Molecular Genetics & Microbiology;
Dr. Robert Kaplan - Program in Writing & Rhetoric
Jakub Micko is a participant in the University Scholars Program who will graduate in May 2017 with a double major in Biology and Clinical Laboratory Sciences, and a minor in Writing & Rhetoric. Jakub has been doing research under the supervision of Dr. Joshua Rest for nearly two years. In the Rest laboratory, Jakub is working to build a cDNA library of S. cerevisiae (yeast) in various growth environments to explore its transcriptome as well as analyze gene content variation and copy number variance. Jakub is also currently working on a Clinical Laboratory Sciences group research project under the direction of Dr. Gloria Viboud. In addition, Jakub has also been engaged in an independent research project under the mentorship of Dr. Robert Kaplan (Program in Writing & Rhetoric), involving the comparison of writing programs at AAU universities.
At SB, Jakub has served as a Teaching Assistant for Organic Chemistry, and as an Orientation Leader and Residential Assistant; and has been an active member of the Pre-Med Society. He has also volunteered for Alternative Spring Break Outreach in Nashville Tennessee (2016), and at an orphanage in Phnom Penh Cambodia (Summer 2015). Since 2014, Jakub has also been employed as an assistant in the Department of Urology at Stony Brook Hospital, and shadowed at an outpatient Urology Clinic. Jakub graduated from Glen Cove HS, and is a first generation college student.
---

Distance Learning CLS Program Stony Brook University
Clinical Laboratory Science Department has developed a distance learning Bachelor of Science program. Clinical Laboratory Science Laboratory professionals are a crucial part of the health care team, providing diagnostic test results that support 70 – 80% of the clinical treatment decisions. According to a recent survey completed by American Society of Clinical Pathology (ASCP), New York has a vacancy rate of 8.2% compared to the national vacancy rate of 2.6%. In New York State, approximately 640 new laboratory professionals are needed each year and only 237 students are graduating from accredited programs. Data from the New York Center for Health Workforce Studies shows that clinical laboratory technologists are the personnel category that New York hospitals find most difficult to recruit. In addition, SUNY has identified clinical laboratory professionals as a high need professional program.
Who is this program for?
Working professionals holding an associate's degree (CLT/MLT) wanting to advance to the Bachelor's degree in Clinical Laboratory Sciences or holding an Associate's degree in Science wanting employment in the clinical laboratory.Individuals holding a Bachelor's Degree in Biology, Chemistry or Biochemistry wanting employment in a clinical laboratory.