Samantha Caruso
Class of 2016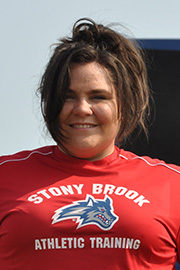 Being part of the Stony Brook University's Athletic Training Program is one of the most fulfilling experiences of my life so far. Every day I am placed in situations that challenge me academically, mentally and socially. And every single one of these experiences has helped me grow as a professional, student and most of all, a well-rounded adult. The smaller class sizes not only allow personalized attention from our professors, but allow us to build personal relationships with them as well. My class of 12 has truly become a second family. It is comforting to know you have a group of people to lean on that are going through the same day-to-day grind you are; and they support you unconditionally. The different clinical experiences are fun and exciting and allow us to get hands-on learning experience from almost the second you start the program. The skills we perform in clinical rotations are direct reflections of what we learn in the classroom and beyond. I love going into each day learning something new. Nothing can compare to seeing an athlete return to play after an injury or standing on the sideline of a big game watching your team perform safely at their best. I would recommend this program to anyone who has a love of athletics, the medical field and challenging themselves on a daily basis. Majoring in athletic training was the best choice I could have ever made at Stony Brook University.
---
Anthony Castiglione
Class of 2016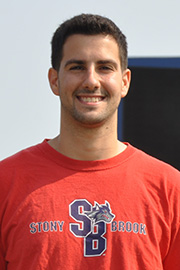 Being a student in the Stony Brook University Athletic Training Program is a very rewarding and valuable experience. Since I was young, I have been involved in athletics. After experiencing injuries of my own and facing the challenges of returning to the field, I was convinced that my future career would help athletes do the same. Being a member of this program allows me to combine my desire to be involved in athletics with my desire to be a medical professional and help others. This program provides students with an optimal learning environment and hands-on experience that are so valuable. Working in conjunction with Certified Athletic Trainers, as well as our academic professors, allows students to learn in both the classroom and the clinical settings. Applying what is being learned in the classroom to your clinical experience with Division I athletes prepares the students to be hard working, efficient, and skilled professionals. The Athletic Training Program allows its students to maximize their potential and lead them to have great future success.
---
Paul deQuillfeldt
Class of 2016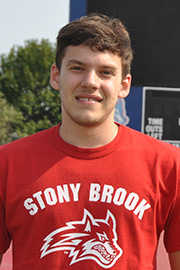 I have been a part of the Athletic Training Program since the summer of 2014. Since my admission, I have had no doubt that this was the right choice for me. I came to Stony Brook pursuing a degree in marine sciences but I did not enjoy the large class sizes in my science courses. The impersonal environment of those classes was not the right fit for me. I was also a member of the Stony Brook Track and Field team. Because of my involvement in athletics at Stony Brook, I was introduced to the athletic training staff and students during my own rehabilitation. I became interested in the Athletic Training Program and started doing some research. I took the Introduction to Athletic Training course and enjoyed my experience so much that I never looked back. The small class sizes allow me to build a close relationship with classmates and professors, which have aided in my success in the program. The hands-on experience in and outside of the classroom at numerous clinical sites has provided me with so many invaluable experiences I could not have gained elsewhere. I am able to apply the information that I learn in the classroom to real-life clinical experiences every day, which many other science majors do not get a chance to do. The Athletic Training Program has allowed me to combine my love for science and sports in an exciting and interesting learning environment. This program is great because it allows you to hone your own skills clinically as you are learning them. The faculty is there for you every step of the way and the small class sizes make it easy to work together to succeed as a class. We have become more than classmates; we are a team and help each other grow and improve. I am very excited to see where the program takes each of us.