Stony Brook University was among the first public universities in the United States to offer physician assistant education. The first class of Stony Brook Physician Assistant students entered the program in 1971. Ranked 15th in the Country by U.S. News and World Report, our 24-month program is fully accredited by the Accreditation Review Commission on Education for the Physician Assistant, Inc. (ARC-PA) and grants a Master of Science (MS) degree upon graduation. The program is part of an academic Health Sciences Center (HSC) that includes a nationally-ranked University Hospital, and Schools of Medicine, Dentistry, Nursing, Social Work, as well as the School of Health Professions (SHP). In addition to the Physician Assistant program, SHTM houses clinical programs in Speech Language Pathology (SLP), Athletic Training, Physical Therapy (PT), Occupational Therapy (OT), Respiratory Therapy, Clinical Laboratory Sciences, and EMT-Paramedic, as well as a number of non-clinical undergraduate and advanced degree programs. As part of one of the top-ranked public research universities in the US, our HSC offers an exceptionally rich environment for health professions education, complemented by a group of affiliates that provide outstanding clinical training in a variety of environments.
In 2018, the Stony Brook PA Program expanded to the Stony Brook Southampton campus. There are 25 PA students on the Southampton campus in addition to the 44 students on the Stony Brook location campus. Stony Brook Southampton is located about 45 miles and a 60 minute drive southeast of the Stony Brook campus location on the beautiful south fork of Long Island. The Stony Brook Southampton PA students join other SHTM students in SLP, PT, OT, and Applied Health Informatics at that location. Stony Brook is working with the community of Southampton to build a new state-of-the-art Southampton Hospital on the campus which will be part of the learning environment for future PA Students.
Although the Stony Brook program still emphasizes competence in primary care as the foundation of sound clinical practice, graduates utilize the education and training that they receive at Stony Brook in over 60 specialties and subspecialties of medicine and surgery. Stony Brook graduates can be found working in all 50 states and internationally in rural, urban, and suburban settings.
Finally, training the next generation of leaders in the profession and health care is an integral part of the Stony Brook experience. As reflected elsewhere on this website many of our graduates have assumed leadership positions in their practice settings, administration, teaching, research and PA professional organizations. With the program's increased emphasis on critical thinking we are certain that Stony Brook graduates will continue to be among the best prepared PAs serving both patients and the needs of the US and global health care systems. Some of the other reasons to consider Stony Brook for your Physician Assistant education can be found here.
For a virtual tour of Stony Brook University and the Health Science Center click below.
For information about the Physician Assistant profession, click here.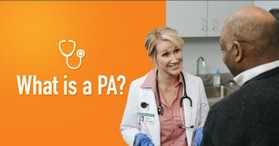 ​