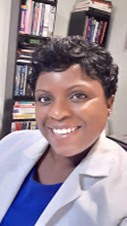 Undergraduate: Stony Brook University: BS Health Science - Public Health Class of 2004
Graduate: Stony Brook University: MS Physician Assistant Studies Class of 2007
Philosophical Doctoral Student: Walden University: Health Education and Promotion
Rasheed is a practicing Emergency Medicine Physician Assistant since 2007 at Queens Hospital Center, Mather Hospital and has also worked in Chemical Dependency and Psychiatry at South Oaks Hospital. During her time practicing Emergency Medicine, she has served as a preceptor to many students on their Emergency Medicine clinicals. Rasheed has operated an urgent care center for 10-12 hours per night as a single practitioner, performing procedures while evaluating patients in the main emergency department. Rasheed has managed an array of cases from viral syndromes, laceration repairs, reducing and splinting fractures to managing patients with ectopic pregnancies and CHF exacerbation. In addition to emergency medicine, Rasheed is a Sexual Assault Forensic Examiner for Queens County for the since 2009, caring for and collecting evidence from survivors of sexual assault, working with Special Victims Unit, NYPD and serving as an expert witness in court trials.
In 2013, Rasheed transitioned from clinical practice to academia to become an adjunct Clinical Assistant Professor in the Health Science Program at Stony Brook University then later on a full-time Clinical Assistant Professor in the Physician Assistant Program at Stony Brook University, as she realized the importance of preparation in the classroom prior to venturing out clinically. As a Clinical Assistant Professor, Rasheed engages students throughout 3 to 4.5 hour lecture sessions from 35 to 120 students at times. Her responsibilities included, teaching Human Anatomy & Physiology I and II, Medical Language and Human Anatomy to the Health Science undergraduates and Genito-urinary & Sexual Reproductive Health with a focus on Women's Health, Infectious Diseases and Endocrinology to the graduate level Physician Assistant students. As a Clinical Assistant Professor Rasheed incorporates her clinical experience and theories learned while pursuing her PhD in Health Education and Promotion. Rasheed believes her application of clinical experience has enhanced the learning experience in the classroom as students understand how didactic information directly correlates with the clinical experience.
Rasheed has a heart for serving her community, her students, women's health, patient advocacy, diversity and equity, providing optimal patient care while appreciating the positive impacts made in both the classroom and clinical setting.