​
Welcome to Pride Month 2022!
It is with great enthusiasm that we welcome you to the School of Health Professions LGBTQ* Pride month celebration. We hope that you will join us in honoring those members of Stony Brook University and Stony Brook Medicine who go above and beyond to provide healthcare to the LGBTQ* community. We also honor those who provide education about LGBTQ folks to healthcare providers, educators, peers, and students. We honor them by posting the honorees here on our webpage below.
In addition, several of our honorees have agreed to participate in a panel discussion where they will talk about why, what, and how, they provide services for those identifying as LGBTQ*.
We invite you to register for the zoom event that will take place on Tuesday, June 14, 2022 from 10:30 AM – 12:00 PM by clicking here. We also encourage you to include any questions that you may have for the panel within the registration link.
This 4-person panel will include Dr. Allison Eliscu, Dr. Adam Gonzalez, and Rose Cardin, co-chairs of the Stony Brook LGBTQ* committee, and Chris Tanaka, the director and force behind the LGBTQ*center on our campus. You may visit the LGBTQ website for Stony Brook Medicine here. You may also visit the LGBTQ* Center at Stony Brook by clicking here.
We look forward to seeing you on Tuesday June 14 as we celebrate LGBTQ* Pride!
---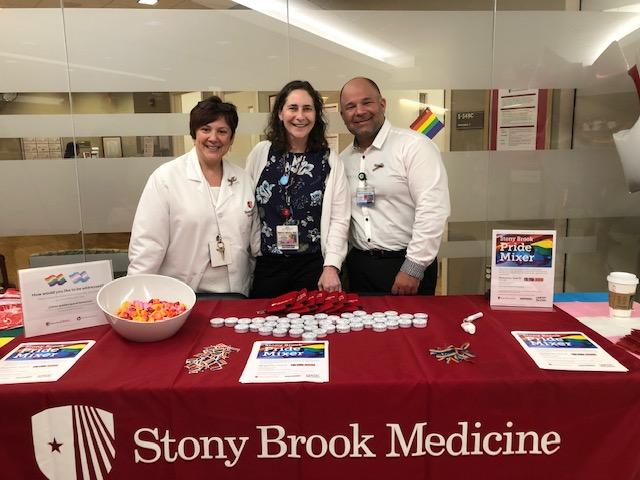 ​
Left: Rose Cardin, Center: Dr. Allison Eliscu, Right: Dr. Adam Gonzalez
Dr. Allison Eliscu, FAAP is an Associate Professor of Clinical Pediatrics, Division Chief of Adolescent Medicine and Medical Director of the Adolescent LGBTQ Program at Stony Brook Children's Hospital and the Renaissance School of Medicine at Stony Brook University. Dr. Eliscu is originally from northern New Jersey and received her bachelor's degree in mathematics from Union College in Schenectady, New York. She then went on to receive her medical degree at The George Washington University School of Medicine and returned to the New York City area for postgraduate training. Dr. Eliscu completed her residency in pediatrics at the Children's Hospital of New York-Columbia Presbyterian and a fellowship in Adolescent Medicine at the Mount Sinai Adolescent Health Center. Dr. Eliscu is board certified in general pediatrics and adolescent medicine and is a fellow of the American Academy of Pediatrics and a member of the Society for Adolescent Health and Medicine.
Dr. Eliscu's areas of interest include adolescent reproductive health, HIV risk reduction (including use of HIV Pre-Exposure Prophylaxis), LGBTQ* Care, resident and medical student education, and patient advocacy. She is the Principal Investigator (PI) for Stony Brook Medicine's Designated AIDS Center's Adolescent and Young Adult Specialized Care Center which provides comprehensive multidisciplinary care to adolescents and young adults living with HIV and at risk for contracting HIV in Suffolk County. She is also the PI for Stony Brook Medicine's HIV PrEP program and Stony Brook's Comprehensive Adolescent Pregnancy Prevention Program. Dr. Eliscu is proud to be a co-chair of Stony Brook Medicine's LGBTQ* Committee and to serve on the Suffolk County Teen Pregnancy Advisory Board.
---
The CPHE is made up of a diverse staff, with more than 80 years of combined experience in the field of HIV/AIDS. The staff is skilled at developing and tailoring curricula to meet the needs of Health and Human Service providers. They have expertise in writing curricula and have written and delivered a number of curricula focusing on LGBTQ patient/client services, cultural competency, trans support, and basic education with skills-building activities designed to improve client/patient outcomes. Individually, the staff below have been involved in the LGBTQ LongIsland community in a number of ways over the last two decades. Details are outlined in the following biographies.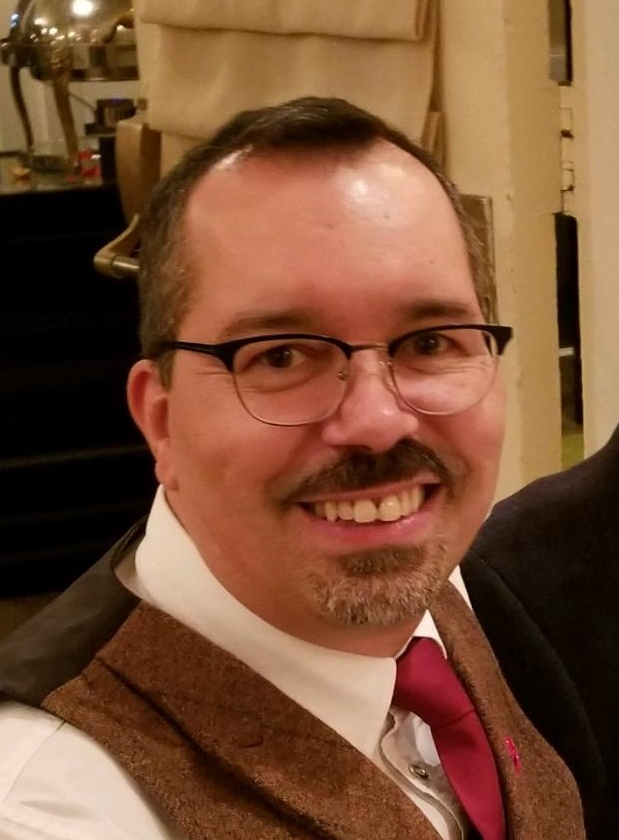 Ilvan Arroyo, MA Associate Director
Ilvan Arroyo first began working in the field of HIV/AIDS in 1991. He has held various positions including education and training for health professionals; supervising HIV/AIDS case management programs and directing a day treatment program for people living with HIV. He is currently a member of the Long Island HIV Care Network and sits on the Planning Council. Mr. Arroyo was the founding member of the first Long Island Gay and Lesbian Parenting group, was a member of the Long island LGBTQ Training Consortium and was recently honored by the National Association of Puerto Rican and Hispanic Social Workers for his work in the HIV/AIDS field. He has a Bachelor of Science in Bilingual Special Education and a Master of Arts in Health Systems Management and Policy.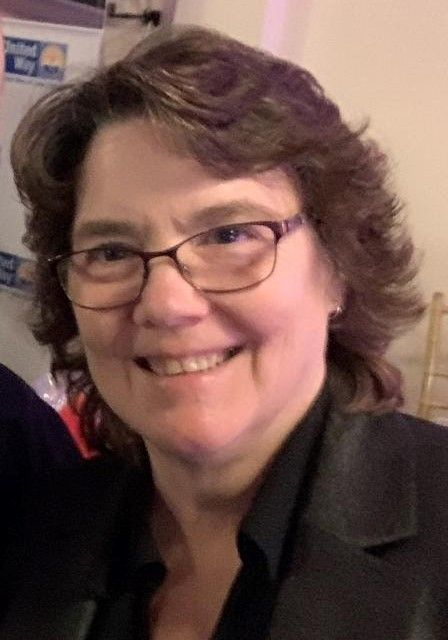 Debra Brown, J.D.; Senior Education Specialist
Debra Brown has worked in the HIV/AIDS field since 1989 in various positions, including education and training for health professionals; supervising HIV/AIDS case management and independent living housing programs; and working for the NYS Department of Health's AIDS Epidemiology Unit. She has also co-authored a research study examining the relationship between AIDS knowledge vs. risk factors for incarcerated women, which was published in the Journal of Sociology and Social Research. Additionally, Ms. Brown was a founding member of the original Long Island Pride Parade Board and is currently Co-Chair of the LGBTQ Law Committee with the Suffolk County Bar Association, She has a bachelor's degree in social work and a doctorate in jurisprudence.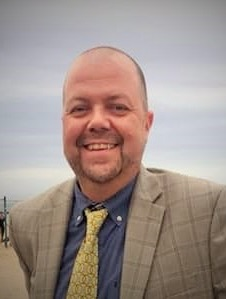 Stephen Sebor, LCSW; Coordinator of the Peer Certification Program
Stephen Sebor joined the CPHE team in 2016 to help coordinate the New York State Peer Worker Certification Program. He is a clinical social worker with more than 20 years of experience in the field. At the Positive SPACE program, Sebor provided counseling and supportive services to Long Islanders impacted by HIV/AIDS. Additionally, he served as the host and producer of "The Long Island Rainbow Connection," a public access television program by, for, and about the LGBTQ+ community from 1994-2015, and was a member of the Long Island LGBTQ Training Consortium. Mr. Sebor holds a Bachelor of Arts in Psychology from Cornell University and a Master of Social Work from Stony Brook University.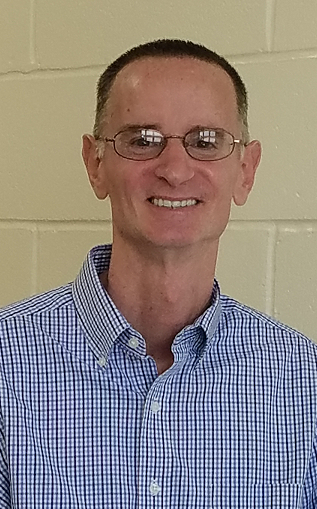 Robert Santamaria, Consultant/Project Assistant
Robert Santamaria joined the team of the Center for Public Health Education at Stony Brook University in July of 2019 and serves as a Consultant/Project Assistant for the NYS Peer Worker Certification Program. In October of 2016, Santamaria became a Certified Peer Worker (CPW) in the HIV track. In February 2017, he became a member of the Peer Certification Review Board serving a three-year term representing the Long Island region. Santamaria is also a member of several Consumer Advisory committees including United Way of Long Island, Suffolk Project for Resource Coordination (SPARC), and Thursday's Child. Prior to his current work as a Peer, Santamaria received a Bachelor of Arts in Economics from the State University of New York at Stony Brook in 1988.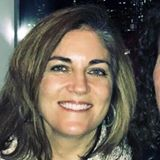 Kerrin Perniciaro, Senior Administrative Assistant
Kerrin Perniciaro joined the CPHE team as a part-time senior administrative assistant in September 2016 after nine years working as Manager of IT Communications & Web Strategy at Stony Brook University. She is responsible for running the day-to-day operations of the CPHE office and assists the full-time staff in facilitating the center's programming and reporting. Prior to arriving at Stony Brook University, Perniciaro worked 12 years in college athletics. She holds a bachelor of science degree in corporate communication from Ithaca College and a master of arts degree in liberal studies from Stony Brook University and currently serves as Education Program Coordinator at Kadampa Meditation Center Long Island (KMC-LI) in Huntington, NY.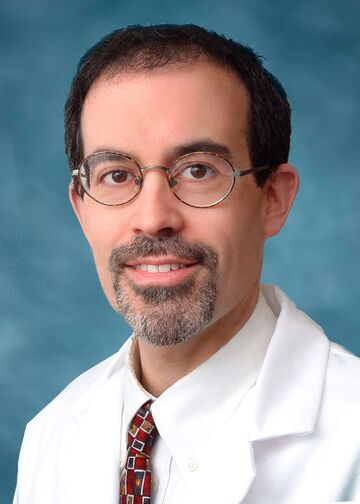 Joseph McGowan, M.D., FACP - AETC Medical Director
Dr. Joseph McGowan is the Medical Director of the Center for AIDS Research and Treatment (CART) at the North Shore University Hospital. The center is the largest AIDS Designated Center of Excellence on Long Island. Dr. McGowan is an Associate Professor of Clinical Medicine at the Albert Einstein College of Medicine and has been directly involved in the care of people living with HIV for the last quarter-century. He is also the Chair of the New York/New Jersey Chapter of the American Academy of HIV Medicine. Prior to coming to North Shore, he was the Director of Outpatient HIV Services at the Bronx-Lebanon Hospital Center where he coordinated the care of almost 3,000 people living with HIV. Dr. McGowan received a Bachelor of Arts from Columbia University and his medical degree from the Mount Sinai School of Medicine. He completed his Infectious Diseases Fellowship and an NIH Fellowship in Immunology at the Albert Einstein College of Medicine. In addition to his clinical activities, Dr. McGowan has been actively involved in clinical research on HIV/AIDS, including studies on the management of HIV in pregnancy, treatment adherence, HIV infection in the elderly, and HIV/hepatitis C co-infection.